Discover Neem - Info Site Map
A Guide To All Neem Information And Neem Oil Info On This Site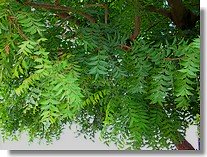 Photo by Yeoh Ts via Flickr.com
The Discover Neem site map helps you find your way around and locate the neem information you are looking for. It also shows the topics and articles that I plan to publish in the near future.
I am always adding new pages with more information about neem and neem oil, so please return often to see what neem information is new at Discover Neem.
However, if there is anything in particular you need to know NOW, please feel free to ask a question about neem and neem oil.
And if you want to be notified about new content and updates, use RSS!
The easiest way to learn about new pages and updates at Discover Neem
If you already know about RSS skip this section.
But if you looked at the little buttons under the navbar and wondered what they are: RSS is the most convenient way to be notified about new content and updates I make to Discover Neem.
You don't have to give me your email address, and you don't have to come back here and check for new information. The information will come to you.
Click here to learn how to use RSS. It's easy!
Site Map - Neem Information
General Neem Information
About Neem Oil
Using Neem
For People:
For Pets:
For Plants:
Pest Control:
The Good Guys:
Using Neem - Recipes
Using Neem - Home Remedies